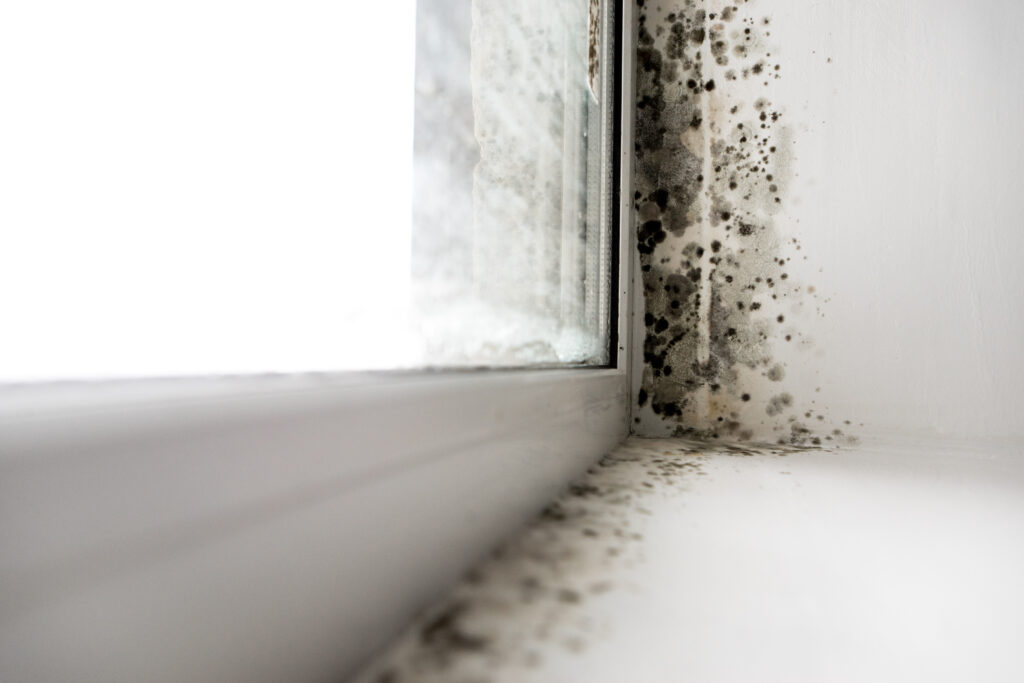 Southern summers are synonymous with thunderstorms and humidity. Unfortunately for homeowners, excessive rainfall often leads to water intrusion and, subsequently, unwanted moisture and mold inside the home.
How common is mold in homes?
Molds are very common in homes and buildings. It will grow in places with a lot of moisture, such as around leaks in roofs, windows, or pipes, or where there has been flooding. Mold grows well on paper products, cardboard, ceiling tiles, and wood products. It can also grow in dust, paints, wallpaper, insulation, drywall, carpet, fabric, and upholstery.1
How do molds get inside & how do they grow?
Mold is found both indoors and outdoors. It can enter your home through open doorways, windows, vents, and heating and air conditioning systems. Mold in the air outside can also attach itself to clothing, shoes, and pets can and be carried indoors. When mold spores drop on places where there is excessive moisture, such as where leakage may have occurred in roofs, pipes, walls, plant pots, or where there has been flooding, they will grow. Many building materials provide suitable nutrients that encourage mold to grow. Wet cellulose materials, including paper and paper products, cardboard, ceiling tiles, wood, and wood products, are particularly conducive for the growth of some molds. Other materials such as dust, paints, wallpaper, insulation materials, drywall, carpet, fabric, and upholstery, commonly support mold growth.1
What if I suspect mold?
You may suspect hidden mold if a building smells moldy, but you cannot see the source, or if you know there has been water damage and residents are reporting health problems. Mold may be hidden in places such as the back side of dry wall, wallpaper, or paneling, the top side of ceiling tiles, the underside of carpets and pads, etc. Other possible locations of hidden mold include areas inside walls around pipes (with leaking or condensing pipes), the surface of walls behind furniture (where condensation forms), inside ductwork, and in roof materials above ceiling tiles (due to roof leaks or insufficient insulation).2
Mold inspections & air quality testing
Mold inspections for residential and commercial properties have become a common occurrence to safeguard the health and well-being of occupants and to protect the equity of building owners' investments. These inspections are frequently begun after a water intrusion has occurred, there are concerns by inhabitants, or a property transaction is in the works.
According to the United States Environmental Protection Agency (EPA), molds produce allergens, irritants and potentially toxic substances. The EPA also recognizes that mold exposure can trigger asthma attacks and according to the Asthma and Allergy foundation of America (AAFA) over 20 million Americans are already affected by asthma.
Properly performed mold investigations protect people and investments.3
Diligent Inspection Services Air Quality Testing
A quality mold inspection will typically begin with a thorough visual inspection of the property. The home inspector will look for any signs of current or past water intrusion since water or moisture is necessary for mold growth. He will look for moisture around plumbing fixtures, attics, crawl spaces or basements and anywhere else a problem may be present.3
Air Quality Testing can be performed in conjunction with a home inspection, or as a stand-alone inspection. First, the inspector will take a sample of the air outside the home to serve as a baseline for environmental molds. Next, he will take a sample in at least one area of the home. The air samples will then be evaluated at our lab in Smyrna. Not only will these samples tell us if there is organic growth in the home, but also what types and how much of each type.
Between now and August 31, 2022, we are offering 25% off all air quality testing. Call or text us at (678) 796-8355 to schedule your test today.